Application:
This B•JG single and double layer soft tube extruder is suitable to extrude tube body.
Features:
1. Compact structure guarantees the contact with water without rustiness; at the same time, shaping drawing cutting are sharing same integrated steel frame.
2. Single and double layer soft tube extruder adopts Japanese YASKAWA inertia servo motor equipped with precise screw drive to compose an accurate cutting system.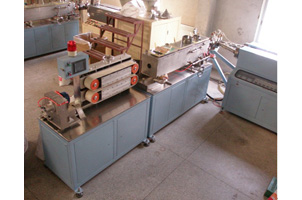 Soft Tube Extruder
3. It only takes 5 minutes to change product size because of simple and useful structure, except the time of changing output mouth of the mould.
4. Made by special material, plastic molding structure makes water under normal temperature like ice water, and it can also save power.
5. Raw material is released from unique dead corner and it need not stop the machine which greatly reduces different color materials changing.
6. Double layers extruder adopts an integrated frame structure, meeting the needs of 2 screws sharing the same mould; therefore it is convenient to move in the future.
Technical Parameters of Single and Double Layer Soft Tube Extruder:
Product dimension
φ16-φ60
Capacity
10m/min[φ40, thickness 50c]
Motor power
total driving power:
single layer machine--13.5KW;
double layers machine--21KW
[extrude: single screw with 7.5KW  motor; draw:1.5KW;cut:1.5KW;vacuum pump:1.5KW;drainage:1.5KW
Heating power
single layer: 30KW;
double layers: 48KW
[A.m value is the maximum value, when the temperature reaches and maintains a set value, the power consumption will be less.
Working water pressure
1.5-2.5MPa
Working volt
AC 380V
Overall dimensions
extruder:
single layer--3.5m×0.9m×1.5;
double layers---3.5m×1.6m×1.5m
cutter: 4m×0.6m×1.5m
Weight
Extruder:
single layer--about 1600kg;
double layers--about 2400kg
Cutter: about 800kg
Boom Industry is a professional manufacturer and supplier of soft tube extruder in China. With 15 years experience of producing, selling and service in this products, we have exported soft tube extruder worldwide like the United States, Japan, Russia, Australia, New Zealand, Indonesia, Malaysia, India, Burma, Italy, France, Nigeria, Vietnam, Iran, Syria, Kazakhstan, Poland, Romania etc, more than 80 countries and regions, and gain great reputation among those customers. If you need soft tube extruder, please contact us.