Introduction:
The capping machine B.XG-Ⅰwhich is also named bottle capper B.XG-Ⅰ, is suitable to cap soft tubes, like laminated tubes, plastic tubes and aluminum tubes. The big advantage of this machine is that it can save manpower and increase productivity. Highly automatic and quick speed enables the decrease the production cost.
This capping machine is used for capping of soft tubes, such as laminated tubes, plastic tubes and aluminum tubes. It can improve worker's labor intensity and increase production. It has high automation and high speed and further decrease your production cost.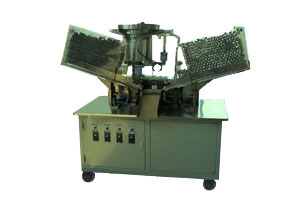 Capping Machine
This machine can be widely used in the areas of toothpaste, cosmetics, medicine and food industries.
Main Technical Parameters of B.XG-ⅠCapping Machine (Bottle Capper):
Specifications
Power supply
220V 50hz
Capping speed
60-100 pcs/min.
Diameters of tubes
12.7-60 mm
Length of tubes
50-300 mm.
Air source
0.4-0.8 mpa
Dimension: 2600×900×1900mm
Weight: 330kg
Boom Industry is a professional manufacturer and supplier of capping machine (bottle capper) in China. With 15 years experience of producing, selling and service in this products, we have exported capping machine (bottle capper) worldwide like the United States, Japan, Russia, Australia, New Zealand, Indonesia, Malaysia, India, Burma, Italy, France, Nigeria, Vietnam, Iran, Syria, Kazakhstan, Poland, Romania etc, more than 80 countries and regions, and gain great reputation among those customers. If you need capping machine (bottle capper), please contact us.