Feature:
This B•T-168S hot stamping machine, which is also called hot stamper B•T-168S, is a pneumatic flat machine with cylindrical shape. This hot stamper is controlled by micro-processor and is driven by pneumatic units.
All these can be adjustable, like stamping pressure, temperature and time, forth and back move, left and right position.
Bend and cylindrical substance printing dismantle shuttle table are available for flat printing.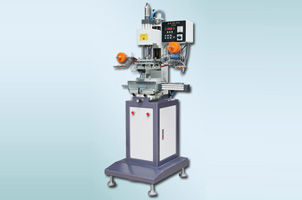 Hot Stamping Machine
Application:
This Pneumatic flat/cylindrical hot stamping machine is used for surface direction
Parameter of Hot Stamping Machine (Hot Stamper):
Max. stamping pressure: 1274N;
Max. stamping height: 95mm;
Size of stamping plate: 100mm×168mm;
Stamping temperature adjustable range: 0-280℃;
Heating wattage: 900W;
Stamping foil winding length: ≤200 mm;
Max. stamping speed: 1000pcs/hr;
Air consumption: 58Litre/min;
Power: 220V/50Hz;
Outline dimension: 630×580×1385mm;
Weight: 108Kg.
Boom Industry is a professional manufacturer and supplier of hot stamping machine (hot stamper) in China. With 15 years experience of producing, selling and service in this products, we have exported hot stamping machine (hot stamper) worldwide like the United States, Japan, Russia, Australia, New Zealand, Indonesia, Malaysia, India, Burma, Italy, France, Nigeria, Vietnam, Iran, Syria, Kazakhstan, Poland, Romania etc, more than 80 countries and regions, and gain great reputation among those customers. If you need hot stamping machine (hot stamper), please contact us.