Feature:
1. When you press the button, the flame nozzle will be ignited automatically with electron ignition.
2. The cone speed and convey speed are controlled by two speed adjusting motors; the speed can be adjustable.
3. Fuel utilization rate is high because of advanced and unique design of flame nozzle, and it is an energy-saving product.
4. Structure of flame treatment machine B•HY-300 HCA is reasonable with assembled moveable roller wheels to move it conveniently.
5. This machine has the nice appearance thanks to electroplated aluminum alloy holder and blue bright plating conveyor.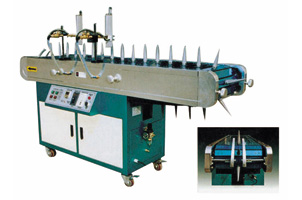 Flame Treatment Machine
Application:
Flame treatment machine is widely suitable for flame treatment on PE/PP and it improves ink adhesion on the substrates.
Parameter of B•HY-300 HCA Flame Treatment Machine
Frame width: 200mm;
Combustion gas: standard petrol gas;
Combustion-supporting gas: compression air with pressure 8KGF/cm2;
Power Supply: 220V/50Hz;
Conveyor speed: 0~10m/min;
Boom Industry is a professional manufacturer and supplier of flame treatment machine in China. With 15 years experience of producing, selling and service in this products, we have exported flame treatment machine worldwide like the United States, Japan, Russia, Australia, New Zealand, Indonesia, Malaysia, India, Burma, Italy, France, Nigeria, Vietnam, Iran, Syria, Kazakhstan, Poland, Romania etc, more than 80 countries and regions, and gain great reputation among those customers. If you need, please contact us.